Putting human rights on hold, IHC prioritises unearthing Imran's secret progeny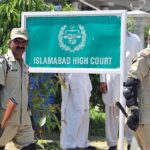 ISLAMABAD: The Islamabad High Court (IHC) has decided to form a larger bench to hear a petition calling for the disqualification of Pakistan Tehreek-i-Insaf (PTI) chairman Imran Khan.
The petition accuses Khan of failing to mention his alleged daughter, Tyrian Jade White, in his nomination papers for elections. Khan submitted a response to the court, observing the petition was "not maintainable" as he is no longer a member of the National Assembly.
The IHC adjourned the next hearing until February 9, with Salman Butt representing the petitioner and Salman Abuzar Niazi and a representative of Advocate Salman Akram Raja representing Khan.
Khan's lead counsel, Raja, was unable to attend the hearing due to duties in the Supreme Court.
The petitioner, Sajid Mahmood, who is seeking the disqualification of Khan, made shocking allegations against the former prime minister, claiming he did not marry Sita White, Tyrian Jade's suspected mother, due to her father's objections and later married Jemima Goldsmith.
The petition, titled "Imran versus Imran — The untold story", cited the circumstances surrounding the custody of Tyrian Jade, which was given to Jemima Khan by Ana-Lusia White in her will dated February 27, 2004.
The petition also referred to a judgement of paternity rendered by a superior court in California in favour of Sita White, declaring Imran Khan as the father of Tyrian Jade.
#Putting #human #rights #hold #IHC #prioritises #unearthing #Imrans #secret #progeny