Govt, opposition agree to appoint Azam Khan as caretaker CM of KP
PESHAWAR: In a rare consensus between the treasury and opposition benches in Khyber Pakhtunkhwa, both the sides agreed on Friday to appoint former chief secretary Azam Khan as caretaker chief minister of the province.
The decision was announced during a joint press conference by CM Mahmood Khan and opposition leader Akram Durrani.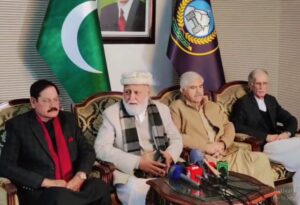 Durrani said that the government and the opposition jointly nominated Azam Khan, adding that names of Zafarullah Khan and Sahibzada Saeed were also considered.
He said that PTI leader and former defence minister Pervez Khattak played an important role in reaching the consensus.
A former bureaucrat, Azam Khan remained Minister for Finance, Planning & Development K-P from October 24, 2007 to April 1, 2008.
He was UNDP Advisor to Lachi Poverty Reduction Project (LPRP) from January 1997 to June 6, 2007. Azam Khan was also the Chairman Pakistan Tobacco Board, Ministry of Commerce.
He was also the Secretary of Ministry of Petroleum & Natural Resources in Islamabad. He was the Chief Secretary in K-P from September 1990 to July 1993.
Azam Khan has also served as Vice President Children's SOS Villages of Pakistan in Peshawar, Director Imran Khan Foundation (Flood Relief and Rehabilitation), Member National Oversight Disaster Management Council (NODMC) Pakistan and Chairman Supreme Court Flood Commission Enquiry.
#Govt #opposition #agree #appoint #Azam #Khan #caretaker