Balochistan's uplift government's top priority: PM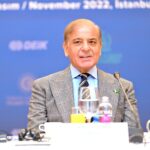 ISLAMABAD: Prime Minister Shehbaz Sharif on Tuesday said the government would equally provide opportunities to the people of Balochistan at par with other provinces.
Talking to Acting Governor of Balochistan Jan Muhammad Jamali and Senator Sana Jamali, the prime minister said the development of Balochistan was the top priority of the government.
The meeting discussed the political situation and the ongoing development projects in Balochistan.
Jan Jamali and Senator Sana apprised prime minister of the pace of development in the province and appreciated him for taking steps to improve operations at Gwadar port.
#Balochistans #uplift #governments #top #priority